URL: https://www.desy.de/career/apprenticeship/electronic/index_eng.html
Breadcrumb Navigation
Electronics technician (f/m) for operation technology or equipment and systems
Elektronic
Start your career at DESY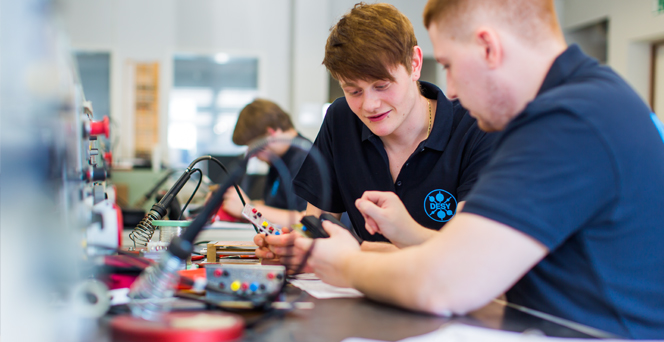 Electronics technician (f/m) for operation technology
Electronics technicians for operation technology mount systems and facilities for energy supply, measurement and control, signaling, drive and lighting technology. Moreover, they put into operation, maintain and run these systems and facilities.
Start of training:
1. September
Training period:
3,5 years
School leaving qualification:
secondary school certificate or higher degree
Location:
Hamburg
Activities
Professional installation and maintenance of electric power supply systems, industrial plant equipment, building services and automation technology
Development of drafts for alterations and extensions
Installation of cable routing systems
Mounting of the electrical equipment of machines and installations
Setup and wiring of switching and automation devices/installations
Programming, commissioning and maintenance of systems and installations
Regular monitoring and controlling of electrical installations and systems
Procurement of components and equipment
Execution of preventive maintenance work
Electronics technician (f/m) for equipment and systems
Electronics technicians for equipment and systems manufacture components and tools, e.g. for information and communication technology, for systems components or for measurement and testing systems. They put into operation and carry out maintenance for systems and tools. This vocational training is also offered at our Zeuthen institute.
Start of training:
1. September
Training period:
3,5 years
School leaving qualification:
secondary school certificate or higher degree
Location:
Hamburg and Zeuthen
Activities
Planning, installation and configuration in the development, manufacturing, production and maintenance
Manufacturing of samples, unique specimens, layouts and fabrication documents
Installation and configuration of programmes and operating systems
Manufacturing of information and communication technology components, tools and systems
Implementation of orders and the analysis of the required functionality
Working on system components, sensors, actuators and microsystems
Repair of tools and systems with the help of measurement instruments and diagnostics software
Manufacturing, testing, repair and quality assurance