URL: https://www.desy.de/career/apprenticeship/administration/index_eng.html
Breadcrumb Navigation
Administration
Administration
Start your career at DESY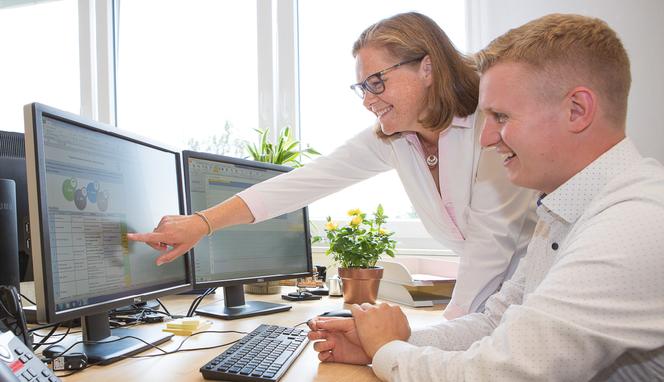 Industrial clerk and Bachelor of Arts
Industrial clerks support business processes from an economic point of view, from order initiation up to customer services after order execution. Their tasks are the commercial core functions purchasing and stockpiling, service accounting, personnel, controlling and sales and marketing, and also the establishment of connections to other departments and projects.
This unique combination of practical training at DESY and courses at the vocational school and the Hamburg University of Applied Sciences (BHH) enables two degrees within four years.
Start of Training:
1. August
Training period:
4 years
School leaving qualification:

university entrance qualification

Location:
Hamburg
Activities
Support of all business processes from an economic point of view
Training in the following DESY departments: Administration and General Services, Purchase and Materials Management, Finance Department, Innovation and Technology Transfer, Human Resources Department, Project Management Organisation
Communication with employees and customers and suppliers, also in English
Independent planning and implementation of individual and training-related projects
Traineeship in European countries is possible upon request and consultation
Assistant in Office Management
Assistants in Office Management are based in secretaries or team assistance positions. In this case they support all business processes or office activities. Therefore operational areas are various such as personnel, service accounting or purchasing. During apprenticeship two business units will be focused for at least five months.
Start of Training:
1. August
Training period:
3 years
School leaving qualification:
secondary school certificate or higher degree
Location:
Hamburg and Zeuthen
Activities
Handling and support of business processes
Training in the following DESY departments: secretaries and assistance positions, Finance Department, Human Resources Department, Purchase and Materials Management, Administration and General Services
Communication with employees and customers and suppliers, also in English
Development of skills through training in selected business units (for five months)