URL: https://www.desy.de/news/news_search/index_eng.html
Breadcrumb Navigation
DESY News: FLASH2020+: Lucas Schaper Takes Over as Head of the Project
News
News from the DESY research centre
https://www.desy.de/e409/e116959/e119238
https://www.desy.de/news/news_search/index_eng.html
news_suche
news_search
eng
1
1
8
both
0
1
%Y/%m/%d
Press-Release
ger,eng
2021/09/29
Back
FLASH2020+: Lucas Schaper Takes Over as Head of the Project
The FLASH2020+ project is DESY's latest upgrade for the free-electron laser FLASH. Many technological improvements will increase the flexibility of the machine and enable the production of even brighter light in the future for the users. Since July 2020, the project has been led by seeding expert Enrico Allaria. On September 2021, he handed over the management of the ambitious project to DESY colleague Lucas Schaper, who has worked shoulder to shoulder with Enrico since the start of the project.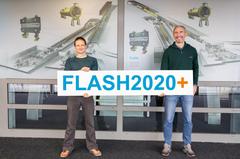 For personal reasons, Enrico Allaria has decided to return to his former workplace, the free-electron laser FERMI in Trieste, Italy, in October. The departing project leader says: "When I joined DESY in the midst of the Corona pandemic to work on this exciting project, my family stayed in Italy. The constraints of the Corona pandemic made me want to live closer to them again."
Under Enrico's leadership, the project established the right conceptual approaches and a solid framework to manage and keep the timeline of this very important and time critical project. The new project leader Lucas Schaper has been conducting research in the FLASH environment since 2011 and took over as head of one of the seven pillars in the FLASH2020+ project in April 2020.
As the scientist in charge, he has been leading the development of the new externally "seeded" FLASH1 beamline and worked closely with Enrico Allaria. Lucas Schaper: "Enrico hands over the management at a special moment. We are just facing the start of the upgrade to the FLASH accelerator from November this year onwards during a dedicated nine-month shutdown." A second shutdown is planned for 2024 to install new undulators, lasers and the external "seeding" system to enhance the brightness of the photon source.
"We are very grateful for all Enrico's contributions and of course understand his private decision. We also look forward to close cooperation between the laboratories DESY and FERMI@Elettra moving forward and learn from each other's experiences. The project is on the right track and Lucas is ready to take the helm of the FLASH2020+ project," says Accelerator Director Wim Leemans.