URL: https://www.desy.de/news/news_search/index_eng.html
Breadcrumb Navigation
DESY News: Scientific centre of CTA observatory coming to Germany
News
News from the DESY research centre
https://www.desy.de/e409/e116959/e119238
https://www.desy.de/news/news_search/index_eng.html
news_suche
news_search
eng
1
1
8
both
0
1
%Y/%m/%d
Press-Release
ger,eng,eng
2016/06/14
Back
Scientific centre of CTA observatory coming to Germany
Important milestone in a pioneering project in gamma-ray astronomy
A major international project in gamma-ray astronomy, the Cherenkov Telescope Array (CTA), has taken another important step towards becoming a reality. At today's meeting in Munich, the shareholders' meeting of the company CTAO GmbH decided that the Science Data Management Centre and the seat of the CTA Scientific Director should be located at the DESY research centre in Zeuthen. At the same time, it decided that the administrative headquarters of the CTA organisation would be in Bologna, Italy. "We are very pleased that we have won the international bid and managed to bring the scientific coordination of CTA to Germany," says Beatrix Vierkorn-Rudolph of Germany's Ministry of Education and Research, who is the deputy chairperson of the CTAO's shareholders' meeting.
The Cherenkov Telescope Array is a project that seeks to build an observatory for conducting gamma-ray astronomy, unlike any other in the world. The observatory will consist of more than 100 individual telescopes located at a site in the southern hemisphere and another site in the northern hemisphere. Over 1000 scientists and engineers from more than 30 different countries have joined forces to set up the facility over the next five years and to operate it for at least 20 years. Negotiations are currently underway concerning the sites in Chile and on La Palma and are due to be completed by the end of this year. The project will cost some 400 million euros and is part of the Federal Ministry of Education and Research's national roadmap for future research infrastructures, as well as its European counterpart, the ESFRI roadmap.
"Germany has a long and successful tradition in the field of gamma-ray astronomy, which we can put to excellent use in the scientific coordination of CTA," explains Werner Hofmann of the Max Planck Institute for Nuclear Physics in Heidelberg, who is spokesman for the international CTA Consortium and founding director of CTAO GmbH. "CTA is going to revolutionise this field of astronomy. We are expecting CTA to provide profound insights into the role of high-energy processes in the development of the universe and many scientific surprises."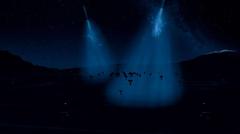 The proposals for observations put forward by scientists from all over the world will be collected in Zeuthen, under the management of the CTA Scientific Director, and prepared for future measurement campaigns of the telescope array, and the data from the observations will be processed here and then made available to the research community. Scientists at DESY have for many years been carrying out research in the field of gamma-ray and neutrino astronomy, collaborating closely with the surrounding universities and research institutions in the Berlin-Brandenburg region. This makes it the ideal scientific setting for the Science Data Management Centre of CTA.
"This is a great day for German astroparticle physics, and also for the Zeuthen region as a whole," says Christian Stegmann, head of DESY's Zeuthen site. "The decision will be a long-term incentive for the Berlin-Brandenburg region, which is already firmly established in the field of astronomy and astrophysics in Germany. We would like to thank CTAO GmbH for the trust it is placing in DESY."
A new building is to be erected for the Science Data Management Centre at the DESY Campus on Lake Zeuthen. It will operate in close coordination with the existing centre, making use of available synergies. "Before long, the excavators will be arriving at the DESY Campus in Zeuthen, and further down the line the CTA researchers at Lake Zeuthen will use gamma radiation to study how, deep inside the universe, shock waves from huge stellar explosions plough their way through our Milky Way," remarks Stegmann, "or how matter is carried off by huge maelstroms in the neighbourhood of black holes."