URL: https://www.desy.de/news/news/archive_before_2010/2009/wagner_fest/index_eng.html
Breadcrumb Navigation
Good Bye and Thank You, Albrecht Wagner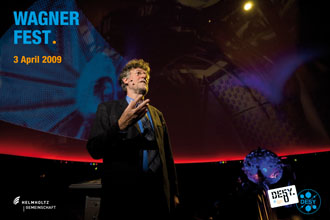 The research centre DESY bid farewell to its long-time Chairman of the Board of Directors, Professor Albrecht Wagner with a festive colloquium. Albrecht Wagner has belonged to the DESY management for 18 years, first as Director of Particle Physics and Astroparticle Physics; since 1999 as Chairman of the Board of Directors.

"Wagner made crucial contributions towards the building of several new top-class facilities for basic research at DESY," emphasised Professor Frieder Meyer-Krahmer, State Secretary of the Federal Ministry of Education and Research. He congratulated the long-time DESY Director for his merits, saying: "You rendered outstanding and lasting services to DESY and basic research in Germany and to the Federal Republic of Germany."

In 2006, Albrecht Wagner was honoured with Germany´s Federal Cross of Merit, First Class, for his contributions to the research centre DESY, to Germany's reputation and to particle physics at large. Numerous honorary doctorates from universities in many countries underline the importance of Wagner´s work far beyond the bounds of DESY.

Under the leadership of Wagner, decisions were made like the building of the X-ray laser European XFEL and the upgrade of the PETRA storage ring to the most brilliant synchrotron radiation source in the world, PETRA III.
The global particle physics project of the future, the International Linear Collider, and the trend-setting European XFEL are facilities to be equipped with superconducting TESLA accelerator technology. This technology was developed in an international collaboration under the direction of DESY. Albrecht Wagner had a decisive part in this success which is appreciated far beyond the limits of Germany.

Albrecht Wagner has connections to DESY since 1974. He was born in Munich in 1941. After his studies at the universities of Munich, Göttingen and Heidelberg he went to Lawrence Berkeley Laboratory (USA), the European particle physics lab CERN and conducted research at the DESY storage rings DORIS and PETRA. From 1984 to 1991, he was professor at the University of Heidelberg; in 1991 he was appointed professor at the University of Hamburg and Research Director of DESY. Since 1999, he has been Chairman of the DESY Board of Directors.