URL: https://www.desy.de/news/news/archive_before_2010/2008/partphys_2705/index_eng.html
Breadcrumb Navigation
PhD Thesis Prize for Niklaus Berger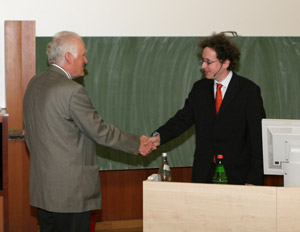 This year's PhD thesis prize of the Association of the Friends and Sponsors of DESY goes to Dr. Niklaus Berger from the Swiss Federal Institute of Technology Zurich. He is awarded for his excellent thesis titled "Measurement of Diffractive Φ Mesons Production at HERA with the H1 Fast Track Trigger", which he wrote in 2007.

Within the framework of his doctoral thesis, Niklaus Berger measured the cross section for the diffractive photo-production of Φ mesons at HERA with the H1 detector. He used the new fast track trigger which carried out a quick and precise track reconstruction already online on trigger level. With his work, he substantially contributed to the setup, programming and commissioning of this new track trigger. Without his contribution these and other measurements would not have been possible.

Niklaus Berger was born in 1978 in Unterseen, Switzer-land and he began to study physics in 1998 at ETH Zurich. There, he worked for his diploma and doctoral degree within the international H1 collaboration at DESY.

The annual PhD thesis prize from the Association of the Friends and Sponsors of DESY acknowledges the best doctoral thesis on DESY physics every year.