URL: https://www.desy.de/news/news/archive_before_2010/2007/xfel_1109/index_eng.html
Breadcrumb Navigation
Another Step towards Financing the XFEL - Hamburg Senate agreement on 100 million Euros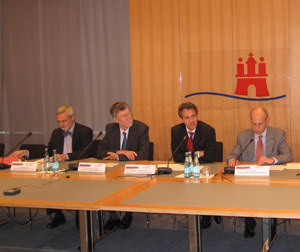 "Today, the Hamburg Senate approved an agreement between the Federal Government and the Federal States Hamburg and Schleswig-Holstein on the construction and operation of the European X-ray laser XFEL." With this sentence, Senator Jörg Dräger (Ph.D.) marked the beginning of today's State Press Conference in the city hall.

Hamburg and Schleswig-Holstein will jointly contribute in financing the XFEL project with a sum of 90 million Euros and bear the purchasing costs of 10 million Euros for the required real estate. Hamburg's share, including the real estate costs, is approx. 70 million Euros; the corresponding share of Schleswig-Holstein is approx. 30 Euros. The approval of the Schleswig-Holstein Government is expected on September 18, 2007.

"Thanks to the new European X-ray laser, the metropolitan region of Hamburg will become one of the leading centers for structural research in Europe," the Senator went on. The XFEL would serve as a model of cooperation in northern Germany and contribute to maintain the research landscape in northern Germany internationally competitive.