URL: https://www.desy.de/news/news/archive_before_2010/2007/photon_1712/index_eng.html
Breadcrumb Navigation
Size does matter – Concrete slab of the PETRA III hall floor finished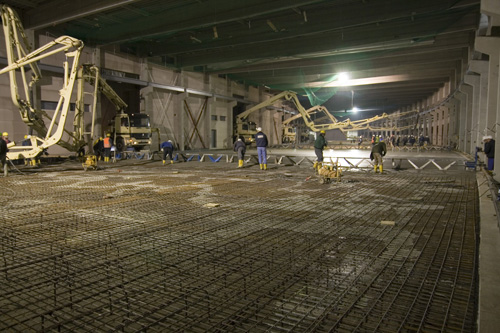 After two and a half day's continuous work it was done: the concrete ground plate for the PETRA III hall is finished. The plate measures an impressive 280 metres in length, a width of 24 metres and a thickness of one metre. For the future PETRA III experiments the hall floor has to be vibration-free, very solid and decoupled from the rest of the building in the best possible way. These requirements are only fulfilled with a thick concrete slab, cast as a monolith. From Friday morning, 5:00 a.m. until Sunday, 4:45 p.m., 850 concrete mixers from four concrete mixing plants carried 6600 cubic metres of concrete for the ground plate to DESY.

In a temporary concrete laboratory put up especially for the event, the properties of the concrete were first tested before being released for pouring. The grey mass was then distributed in the hall by a total of five concrete pumps operating at the same time.

The concrete, protected by thermo foil, will now set until mid January, a process in which it can reach up to 40 degrees Celsius.

Various sensors fixed on and in the concrete plate monitor the behaviour of the plate during the cool down.