URL: http://www.desy.de/news/news_search/index_eng.html
Breadcrumb Navigation
http://www.desy.de/e409/e116959/e119238
http://www.desy.de/news/news_search/index_eng.html
news_suche
news_search
eng
1
1
8
both
0
1
%Y/%m/%d
Press-Release
ger,eng
2015/12/28
Back
ERC Starting Grant for characterising the Higgs boson
Kerstin Tackmann, a physicist at DESY, is to receive over 1.3 million euros from the European Research Council (ERC) in order to carry out research aimed at a more detailed characterisation of the Higgs boson. She will use a starting grant to set up a research group to investigate the properties of the Higgs boson in great detail, as part of the international ATLAS Collaboration. These measurements are an important step towards identifying whether the particle fits the Standard Model of particle physics. The 5-year project is scheduled to begin in 2016.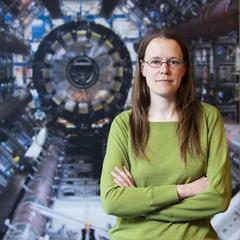 Ever since particle physicists working on the big LHC experiments ATLAS and CMS announced, in 2012, the discovery of a particle whose properties corresponded to those of the elusive Higgs boson, particle physics has faced an extremely exciting mystery: does this Higgs boson fit the Standard Model of particle physics, the currently accepted description of the elementary particles that make up matter and the forces acting between them, or will it open the path to a new, higher-level theory.
Using the data available so far, scientists have already been able to determine the particle's mass of around 125 gigaelectronvolts (GeV) and its spin of zero to a fairly high degree of accuracy. To obtain even more precise information about additional properties of the particle, the researchers need to analyse far more data from proton-proton collisions in the LHC. They are particularly interested in finding out exactly how the Higgs field, of which the Higgs boson is an indication, lends elementary particles their mass. To answer this question, they have started to analyse the collision data from "LHC Run 2", which began this summer and which is expected to produce about 15 times as many Higgs bosons as the LHC's previous run. The analysis of this large amount of collision data will allow far more reliable conclusions to be drawn.
Kerstin Tackmann intends to devote herself to these questions together with two post-docs and three PhD students, and will be analysing the collisions from Run 2 of the ATLAS detector in great detail. They will be working as part of the ATLAS Collaboration, involving hundreds of scientists from all over the world. Her group is going to concentrate on measuring the kinematic properties of Higgs boson production. The focus will lie especially on the decay of the Higgs boson into two photons or four leptons, which allows very accurate measurements to be made. This is where deviations from the precise predictions of the Standard Model could occur, should the Higgs boson not fit the Standard Model.